Member Newsletter – November 2023
New Website Coming Soon
If you are seeing this,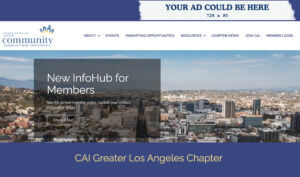 it has launched!
We are launching a new website and database during the week of November 6! Watch for an email about the new member portal called the InfoHub. The email will contain information about how to create your new login and update your information, as well as so much more you can do in the new portal.
You may notice the website go down as we switch from the old site to the new site, but it will be a temporary inconvenience. Please email memberservices@cai-glac.org or call the Chapter office at 818-500-8636 if you need help with anything.
Did you miss the Virtual Committee Fair?
Don't worry, we recorded it. Watch it here. If you would like to join a committee, please use this form to tell us which ones you are interested in. We'd love to have you get more involved in the chapter.
Come to the November 15 Luncheon
Don't miss the 2023 Legislative Update and Case Law Review at the Skirball Cultural Center on November 15, 11:00 AM - 1:30 PM.
Speakers:
Louie Brown, Jr. Esq., Kahn, Soares, & conway, LLP
Thomas M. Ware II, Esq. CCAL, Kulik Gottesman Siegel & Ware, LLP
Jeffrey A. Beaumont, Esq. CCAL, Beaumont Tashjian
Erik M. Rivera, CMCA®, AMS®, PCAM®, EBP, Manhattan Pacific Management